Specialist Lever Free Tyre Fitting Machine, for Specialist fitting equipment
The Butler Aikido.34 Tyre Changer is the ultimate lever-less machine with a massive 34" rim clamping capacity. The Aikido is an ideal machine for changing the toughest of tyres including Run-Flats
EFFORTLESS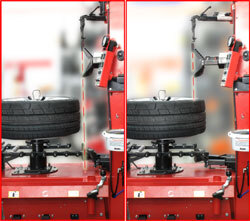 Fits between the tyre and rim and takes hold of the bead, gradually lifting it without the aid of bead-lifter levers.Made from scratch-proof material, it eliminates all risk of damage to the rim and allows operation close to the edge (zero-stress effect).
The bottom tool works on the second bead, lifting it and removing the tyre from the rim. Also used for mounting
DIAMETER CHECKING IN A SINGLE MOVE Pneumatic, synchronised adjustment of the four arms to suit the wheel diameter.The laser direction pointer shows the operator the correct bead breaking position.
CALL US NOW ON 02920 371808 FOR MORE INFORMATION!