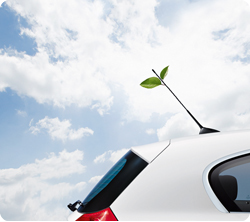 Buy green – a more efficient car costs less to run. Look out for Bridgestone tyres bearing the ECOPIA mark – they offer low rolling resistance for excellent fuel economy and less CO2 emissions.

Plan your journey – and save on fuel and time. Choose the quickest routes with minimal congestion.

Check your tyre pressures frequently – a correctly inflated tyre decreases rolling resistance, increases fuel efficiency and gives better grip – making it a greener and safer tyre. Check them regularly with Bridgestone's tyre pressure advice.

Reduce loads and avoid the need for roof racks – heavier cars need more energy to move so carrying excess weight will heighten fuel bills. Remove any unnecessary items.

Don't warm up your engine before starting off – modern cars don't need to be warmed up before starting off, except in extremely cold conditions.

Use air conditioning only when necessary – AC causes your vehicle to consume more fuel so think twice before letting it run continuously. When travelling at slow speeds, it's more efficient to open the windows.

Accelerate gently and keep a constant speed – gentle driving uses less fuel. Avoid abrupt, heavy acceleration as this incurs unnecessary wear on your tyres and brakes.

Use engine braking – using the natural braking power of the engine saves on fuel. Releasing the accelerator when recognising the need to slow down stops the fuel supply leading to a 2% increase in fuel efficiency.

Don't idle your engine – whilst the engine is idling the car is still using fuel! Ten minutes of engine idling (in neutral, with AC off) wastes 130cc of fuel.

Offset your CO2 emissions – CO2 production as a result of transport is often unavoidable, but if you do drive you can still contribute to CO2 reduction by offsetting emissions.